Skip Navigation
Website Accessibility
March Newsletter
Happy almost Spring!
It sure doesn't feel like Spring out there.

I had Mom start the truck and turn on the heated seats before we headed out this morning.
Then, on the way into work, she had the nerve to turn down the heat on my heated seat. I gave her the look and she turned it back to where it was. She told me I'm spoiled.
Mom also told me Spring doesn't actually start for a couple more weeks.
March has definitely come in like a lion around here.

We're still getting fabric in, it has started to slow down. Now it's a few bolts every other week. Some of it is reordered blender fabrics.

We still have enough fabric to do at least 3 more Saturday Fabric Reveals.
If you don't have Facebook, here's a look at some of the new fabrics that have come in the past month or so.
There might be a few repeats. It's getting hard to remember when and what fabrics have recently come in.



Some Aussie themed prints, basket weave, fire & landscape fabrics from QT Fabrics.



Blue fire by QT Fabrics & Spring Gnomes by Henry Glass



Summer Patriotic and Party Animals by 3 Wishes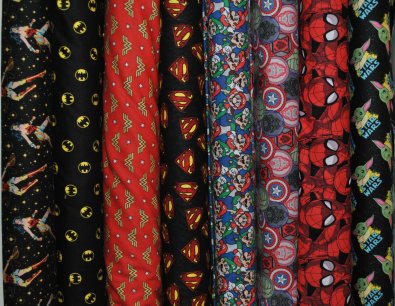 We have Wonder Woman, Batman, Superman, Mario Brothers, Avengers, Spider-man and Baby Yoda.



The lastest BLOCK magazine has arrived!



The Gypsy Quilter's new design for the Cutting Gizmo



Ricky Timms new pattern book

The construction has finally moved down the road away from our road. Our road is open but there's still a lot of dips and holes from the construction. It's a little tight turning up Center St. due to the rough spots when a vehicle is coming down Center St.

Grandma has decided on a date for Free Demo Day for March.
It will be Friday, March 26th & Saturday, March 27th at 10am.
We are limiting it to 5 people per class, so you will have to sign up ahead of time.
Not to worry, if we run out of room, we will add another class time.

Just as a reminder, if you plan to come into the Shop, you will need to wear a face mask, covering both your nose and mouth, use the hand sanitizer in the lobby before entering the showroom & to keep all fabric swatches and projects sealed in a ziploc style bag at all times while inside the Shop.
The safety of our customers and staff is our #1 priority.
If you don't feel comfortable coming into the Shop, you may go to our website to shop and use curbside pickup.
https://www.friendshipstarquiltshop.com/

You can join us every Saturday at 1:30p for our Facebook Live Fabric Reveal Party.

I think I've covered everything for this month's newsletter.
February was a whirlwind month. Mom and I spent a lot of time plowing & shoveling snow in February.
We lost quite a few parking spots because we were running out of places to put the snow.
But with the warmer temperatures coming, hopefully, we can get them all back soon.

Have a wonderful St. Patrick's Day.

Keeping you in Stitches,
Obi the Wonder Dog, Moda the Bandit Dog, Maryanne, Mary Lou & Elizabeth