Skip Navigation
Website Accessibility
September Newsletter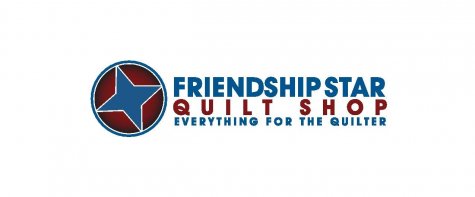 Hello quilters!
It's school time and most of the kids are back in school. I'll miss the kids that come in. My favorite kid friends come in and quietly sit on the floor with me and rub my belly, chest, head and ears. Sometimes I use them as pillows while they give me attention. I love doing that. I get attention and it keeps the kids busy while Mom and/or Grandma shops for fabric.

We've got a lot of new things in the Shop this month.
New Christmas collections from Moda, wildlife themed fabrics from Benartex, colored elastic, and patterns.

Let's begin the show!



We have these two Fall quilt patterns by Pine Tree Country Quilts. We have the Chickadees and pumpkin panel in stock. You could use that panel on the second pattern and turn it on end, too.



We have this cool leaf quilt. I think it would be really cool done in batiks! The second quilt pattern would be very nice in Civil War fabrics.



The first pattern would be nice in Reproduction or bright colored fabrics, don't you think.
The second pattern would be another nice batik quilt.



Our last pattern, is a mesh bag that would be good for swim wear or as a market bag.



Narrow elastic in white or black for little ears is in stock.



We now have navy, red, turquoise, black and lime green in approximately 18th width.



We have some new Benartex, and Northcott fabrics in.



Our new Christmas Collections. We may have more coming in but some fabric manufacturers are still having trouble getting their new lines out to quilt shops.

Mom has raised the Sewing Machine Service and Repair rates, effective, September 1, 2020.
Sewing machine service is now $60.95.
Labor rates on repairs is now $24.00 per hour.

Grandma's Free Pattern & Demo Day will be on Friday, September 18 & Saturday, September 19th.
Both classes will be at 10am.
You still need to call and sign up for the class. We are limited to 5 people per class.
I suggest signing up early, the classes tend to fill up fast. If need be, Grandma will schedule a 3rd class to accommodate more people.

Every Saturday at 1:20p, Mom and Grandma do a live video on Facebook, showing off new notions, gadgets and fabrics. It's our Fabric Reveal Party.
Like us on Facebook to kick back and watch what's new in the Shop.

One more thing, we will be closed on Monday, September 7th for Labor Day.
I'm not sure what Labor Day is all about. I don't labor much.
I mostly lay around, beg for treats and attention.
Sometimes, I go out and chase squirrels or a woodchuck in the back yard.

Have a safe Labor Day!

We hope to see you soon.

Keeping You in Stitches,
Obi the Wonder Dog, Moda the Bandit Dog, Maryanne & Mary Lou