Skip Navigation
Website Accessibility
May Newsletter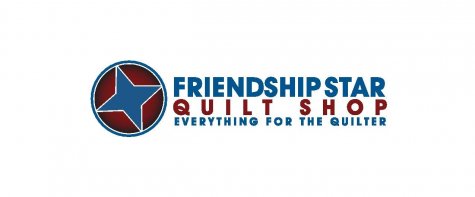 Hello everyone!

First, I'd like to say, "Helllloooo!" to our new subscribers that signed up at the Elmira Piecemakers Quilt Show and our new customers that signed up in April at the Shop.
Mom told me our regular customers, Denise and herself told all of you Quilt Show goers about me.

I was at the National Soaring Museum on Thursday watching Mom unload the truck. She made me stay in the truck. She let me out a few times to pee but I was too busy checking out all the new smells.

I'm still miffed she didn't let me help set up more and she made me stay home on Friday and Sunday.
But Saturday, I got out the door and refused to go back in the house. Saturday is a work day after all.
Mom was forced to take me up to Grandma's so I could at least go into work with her.
Friday Mom told me Grandma didn't want me at the Shop with her. I don't believe her....Grandma loves me and always wants me to be with her. Mom just shook her head when I told this.

For our new subscribers, here is a photo of me and Moda the Bandit Dog (Grandma's dog & really spoiled one at that). This way you will be able to recognize me when you come visit the Shop! I'm the cute one, without the dress on.


As you can see we work very hard every day.

Anyway, on to what is happening around the Shop.

The big news! Suzy Bee Fabrics have started to arrive!
Lewe & Lal the Sheep along with Flutter the butterfly are here. More Flutter the butterfly and Zoe the Giraffe are still on back order.


We have more Riley Blake in. The collection is Someday. We have Someday charm packs in as well.



We also have 2 new Moda Fabric collections in...



Bee Joyful Morris Garden

And to just tease you....here are some fabrics waiting to be processed so they can get ready to go on the shelves.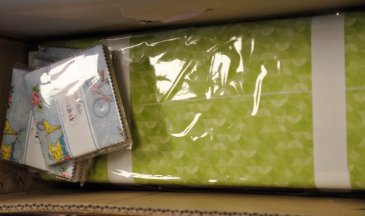 P.S. there's even more under the green...

Don't forget! Saturday is Free Pattern and Demo Day!
For our newbies, the first Saturday of every month is Free Pattern & Demo Day. It's first come, first serve.
Grandma gives you a free pattern, shows you the sample and how to make the first block. If there are any rulers that help make the project easier, she demos how to use the ruler to make the block.
We have light refreshments and give away a door prize.


This Saturday, May 4th, is FREE PATTERN & DEMO DAY!


My favorite day of the month! All my girlfriends come see me, bring me treats, share their treats and I get lots and lots of attention!



Saturday, May 18th Sewing Machine Maintenance Class

10:30A-12Noon $35.00


Mom will show you where you can access your sewing machine for daily basic maintenance and show you where you shouldn't go into your sewing machine. She also shows you how to adjust both your top and bottom tensions, when to change your needle and goes over needle & thread basics. She also teaches you how to troubleshoot most common problems with sewing machines. You

will learn the importance of why you should have your sewing machine professional serviced at least once a year.
Students are encouraged to bring their sewing machines.
A minimum of five (5) days advance sign up is required for this class.

Our friend, Denise, will be running the Shop on Mother's Day Weekend. Mom & Grandma are taking a weekend away and my doggie sisters, Moda & myself are going to the doggie resort, Furry Friend Inn. I'm hoping they will have the pool open. I haven't been there when the pool is open. I really, really want to get in the pool.

Our Sales this coming week are:


Saturday, May 4th

25% Off All Star Wars Fabrics


May 6-11

20% Off Jelly Rolls and Strip Packs

I think I've covered everything.
It's been a crazy week. Our pressure tank at home needed to be replaced and to conserve electricity and the water kept turning brown from the the tank stopping and restarting. That got replaced but now it's the well pump needing replacing, too. On the upside, my doggie sisters and I have been drinking bottled water. We think that's pretty tasty. Mom can't believe all the water we're drinking just because it's bottled water. She keeps telling us not to get used to it. I got news for Mom.....I'm getting used to it just fine.

I hope the rest of your week goes great. Those lovely Spring flowers are blooming!

Keeping You in Stitches,
Obi the Wonder Dog, Moda the Bandit Dog, Maryanne & Mary Lou