Skip Navigation
Website Accessibility
August Newsletter

Welcome to the dog dayz of Summer, everyone!

I have no idea what that means but I overheard someone saying it somewhere.

I have no clue where this weird, rainy summer has gone to. It's certainly has been a weird summer, hasn't it? I haven't noticed my fur getting softer with all the rain that has been on it. I think that rainwater being good for your fur is an old wives tale. It feels the same to me. Oh, well. With all the flea baths I have to get to make sure I don't get infested my fur is kinda soft. Mom buys flea shampoo with conditioner.

Anyway, on to Shop news.

In the Shop, we have a sale going on until Saturday, August 5th. Buy One Orphan (remnant) get one 50% Off. If that's not good enough, how about 15% Off Regular priced Florals.

Keep your eyes out for an email on a Special Sale coming in mid-August.

This past week Grandma has been making some samples for a class she's teaching this Fall.
Using a protesting Moda as a model, here are some sneak peek photos of the the class samples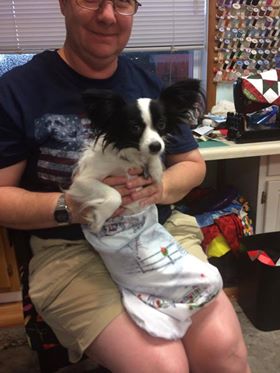 All I can say is, there are advantages to being a big dog. I laughed so hard I almost peed on the carpet. Moda was a bit annoyed at my Mom for using her as a stocking stuffer.
Remember, this Fall you can take this class and make a Christmas Stocking to put your dog or cat in.
Too bad my cat wasn't around to have Mom put her in the stocking.....

Row by Row Experience has only 6 weeks left. If your looking to get your Rows, time is going by fast.
We have had a Winner in our Shop!
Congratulations to Phyllis C of Burdett, NY!




Not much has been happening around the Shop. Outside is another story.

Mom wanted me to let everyone outside the area know, that coming from the Binghamton area on Rt17/I86, the highway is closed between Exits 64 & 63 due to flood waters washing out the concrete supports on at least one bridge and making it too dangerous to allow traffic on. The giant rebar supports are what's keeping the bridge from collapsing from the look of the photos online. There is a detour for this section of highway.

We hope all of our customers in the Nichols, Rome & Windham Center areas are safe and sound without water damage from the flooding in their area.

Mom also wanted me to remind folks bringing in their sewing machines for cleaning and/or repair to please double check to make sure you have your power cord, foot pedal and a bobbin with your sewing machine when you bring it in.


Coming up next, is our Class Schedule for August.



Saturday, August 5:

Free Pattern and Demo Day. Get a free pattern and learn how to make the first
block. Light refreshments and door prize drawing.



Saturday, August 12:

Sewing Machine Care Maintain your investment. Learn to properly clean and
maintain your sewing machine, old or new. Feel free to bring in your
sewing machine. 10:30-12:30 $10.



Saturday, August 19:

Quick Bag Make a quick bag or tote. This quick method will let you make
any size bag. 10am-2pm $35




Saturday, August 26:

Charm Pack Quilt

It looks complicated, but it's not! If you can make a 9 patch
you can make this. BOOK REQUIRED 10am-2pm $35.00



That's all the news around the Shop for this month.
We hope to see soon.

Keeping you in Stitches,
Obi the Wonder Dog, Moda the Bandit Dog, Maryanne & Mary Lou