We have another walnut handmade quilt rack in the Shop. Just in time for Mother's Day. It's closer than you think. This quilt rack is heirloom quality hand crafted and has a cabinet finish so that it will not get sticky in the Summer months and ruin any quilts. We currently have one in stock and it is $115.00. Which is a steal for this heirloom quality quilt rack! You will be able to pass this quilt rack down through the generations. Here's a couple of photos of it: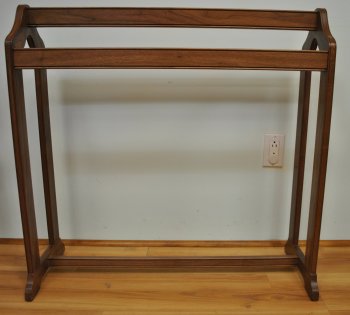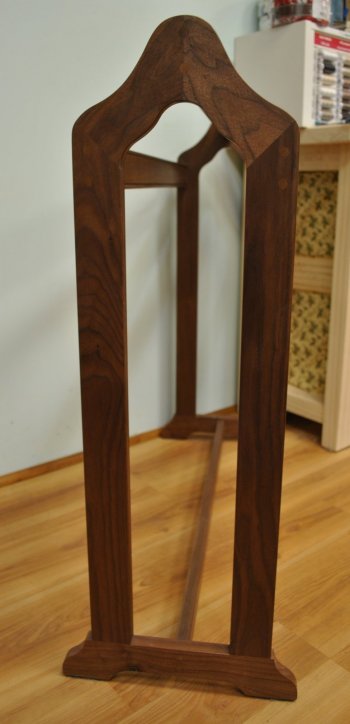 We will be down at the Bradford County Quilt Extravaganza debut on Mother's Day Weekend, May 7 & 8th, located in the Historical Society in the for Sale Barn in Troy, PA. The Quilt Extravaganza will be displaying quilts from the area. We will have our May Fabric Challenge Quilts, past Fabric Challenge Quilts, customers' quilts and Grandma's Sayre Centennial Quilt will be display under the Shop's representation. If you would like to display any quilts, you may either display them with us or contact the Troy Historical Society at www.HistoryofTroy.com or (570) 750-1362.
This is not a quilt competition, only an exhibition to introduce and promote the art of quilting. We hope you will be able to attend and enter some quilts. The founders are hoping to make this into an annual event and your support will be greatly appreciated.
Local quilt shops will be showcased but there will not be any vendors at the extravaganza.
We will keep you updated on this event as we receive new information.
We are proud to support the Troy Historical Society and the Bradford County Quilt Extravaganza.

Mom said she doesn't think dogs are allowed at the Quilt Extravaganza, so I will have to stay home. I'm so bummed out. Mom, Grandma, Liz, their friends, Denise & Monica get to go to all these cool events (where I could be getting lots of belly rubs) and I have to stay home. Mom says I will survive. I'm not to sure about that.

On to our Show and Tell for the month!
Lois E. brought in some really gorgeous projects a few weeks ago. Denise A. & Monica K. have been busy as well. Here are they're beautiful projects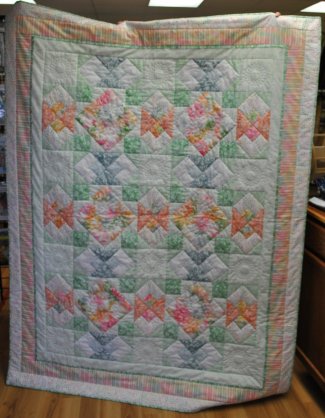 Lois E. took our Mimosa Class and here is her finished quilt. A close up of her beautiful quilting


Lois E. was finishing up some UFO's. Snowman and squirrel table runners are all finished & ready for the table.

Lois E. made this whimsical quilt from our Red Rooster "Sew Nice to be Home" panel and her stash of whimsical fabrics




Lois E. had made these beautiful dragonflies on her embroidery machine a while back. She found the perfect sashing fabric in our greens

.
This is Mom's favorite. She loves dragonflies,

Lois E. made this table runner from batiks she found in our stash, I mean batiks section. The pattern is called Declan's Turtle and is a pattern designed by local quilt pattern designer Aunt Tracey Quilts. We carry this pattern, too.

Denise A. made this quilt using Quilting Treasures Dreamland digital screen print panel, Northcott's Stonehenge & her stash.

Monica K. made this top using Northcott's Artisan Spirit fabric collection and Patch Works Studios Windswept Patter

n

Mom's problems with our Facebook Page was fixed in 10 minutes by Elizabeth after Mom spent a day and a half trying to fix it and Grandma spent 1/2 a day trying to fix it.
Moral of this problem: If you have an Internet or computer problem...find a teenager.

That's all for this month, folks.
Have a great Spring and we hope to see everyone in the Shop and at the Quilt Extravaganza.
Keep your stitches straight and in the ditch.
Your friends,
Obi the Wonder Dog, Maryanne & Mary Lou