Winter Follies start today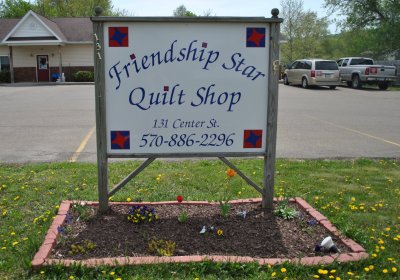 Hello to all my quilting friends on this cold Monday.

I just wanted to remind you our Winter Follies Passport Event starts today.
The Passport event will be until Saturday, January 30th.
That's 2 whole weeks to come in, get a Passport and win some great prizes.
You don't want to miss out on this Event! It's gonna be great!

The Passport is $3 and includes the Passport, Loose Press Pattern and an extra goodie.
Get your Passport stamped for buying 1 yard of regular priced fabric, 1 notion, 1 pattern, 1 spool of thread and watch 2 live demos.

When you get your Passport all stamped, you will be entered for a chance to win one of the following:

1st Prize is an Arrow Cabinet folding cutting table with a cutting mat (retail $525.00)
This cutting table can go from 60" to around 36" and down to 13" when completely folded. It is 36" wide.
The cutting mat covers the whole cutting table when it's opened up.




2nd Place is an Accuquilt GO! Baby (retail $89.99)
You can buy dies that will cut triangle, rectangles, applique designs just to name a few things



3rd Prize is a $50.00 Gift Certificate from our Shop

Also, one of our sales reps sent us a boxful of patterns, pattern books, a Gypsy Gripper, ruler and chalk pencils. We got the box of quilting goodies late last week. Mom and Grandma were happy and grateful to our sales rep.
I nosed through the box very thoroughly but she didn't send any bones, dog toys or treats. I was very disappointed.

Anyway, after we draw the names for the big prizes, we are going to draw prizes for the goodies in the box.

We hope you can come in and join us for this great event!
It's going to be tail waggin' fun!
I love to see all the quilters that come in. I especially love getting ear scratches and belly rubs. I like to tease my customers with my toys, too. Keep away is my favorite game.



I miss seeing all of you. I'm always happy to see you and to greet you with a smile and waggin' tail.

I hope to see all of you real soon.

Your quilt loving pal,
Obi
Oh yeah.....Maryanne & Mary Lou, too
I almost forgot about them