Skip Navigation
Website Accessibility
FEBRUARY NEWSLETTER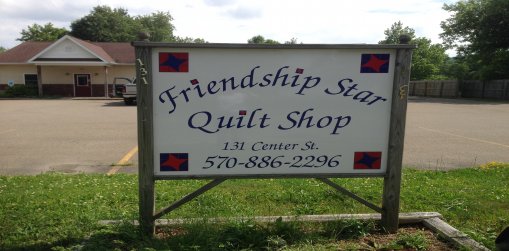 Happy Valentine's Day ( a little early) to all of my Sweethearts!
You know who you are. All of you ladies who scratch my ears, rub my belly and give me lots of attention
.
My Valentine to you is 25% Off all Pinks and Red fabrics this month!
Let's move out some of this fabric so we can make room for more new fabrics! Mom & Grandma have lots in the storage room just waiting for their turn to come out onto the floor.

It looks like February will be a great month to get into that stash and use up some fabric so you can buy more fabric.
We've got some new Quilt in a Day patterns that have just arrived. There are some new charm packs and layer cakes along with yardage fabric to go with them in!
We only have 15 Olaf panels left in stock! If you want one, you better hurry in before they're gone!

I think February is going to be a snowy month. Just look how deep the snow is already! It's up to my belly!

I keep hearing on the radio, that there is more snow on the way this weekend! Mom is going to have to go out and dig some paths for me pretty soon. I bet that will be fun! I hope she makes me a maze out in the backyard & hide some dog treats for me to find! OH BOY! I hope it snows some more.
Yes, Mom, I want more snow. You can find someplace to put it.
Hmmm, what's in here?

Okay, back to business, Mom says. She doesn't want to hear about that white stuff anymore.
Earlier, I said we had gotten some new charm packs and layer cakes.
A lot of people kinda shy away from them. Some because they don't know what to do with them & some because they think they are too expensive.

Let's tackle the price first. Overall, they aren't really as expensive as you think. You are actually getting a lot of fabric. You are just getting a bunch of different designs and colorways in them. You also have to keep in mind the labor for cutting the precuts. You can save so much time and have more time for sewing.

Here, let me break it down for you:
A full size jelly roll actually holds approximately 2-2/4 yards of fabric. (2.5" X 40 strips= 100"; 100"= 2.78 yards)
A half size jelly roll holds approximately 1-2/3 yards of fabric. (2.5" X 20 strips=50"; 50"=1.39 yards)

A charm pack holds a little over 3/4 yards of fabric ( I used Moda's conversion chart for this one. Too much math for my doggie brain) There are 42 squares of fabric in most charm packs.

A layer cake holds approximately 1-1/2 yards of fabric (a charm pack is approximately 3/4 of a yard, a layer cake is double that, so you have 2X as much fabric) There are 42 squares of fabric in most layer cakes.

So, as you can see, you are getting a fair amount of yardage, it's just cut differently. Plus, you don't have to spend hours cutting your own strips, charm squares & layer cakes.

Now that you see, it's not quite as expensive as it first seems, what to do with them.
There are thousands of free videos on You Tube, you can take a class (we offer classes), check out the pattern books. We have them. Liz loves them, she says they are great books.
Some ideas I have are: Log Cabin Quilt Corner Stones
Court House Steps Chimneys & Cornerstones
4 patch 2.5" triangles (charm packs)
9 patch quilted bags
Centers in the Corners Bear's Paws
Flying Geese Friendship Star

You can cut layer cakes into quarters and make bigger charm packs to make bigger projects.
As you can see, they are very helpful in cutting a few steps and maybe even help in scrap management
You could even use them to fill in for a scrap quilt.

I hope this helps you with any reservations you may have in using pre cuts.

We have 2 classes using pre cuts coming up in March.
March 7 is "What to do with 5" squares?"
March 21 "I have layer cakes, now what?"

The only class we have scheduled for February is:
2/14 - Double Irish Chain
the class is from 10a-2p and is $49.00 plus supplies

As always, Mary Lou will teach private classes at your convenience. There are no extra fees for a private class. Our classes are only cancelled if there is no one signed up for a class or bad weather. We do not have a minimum attendance requirement for our classes.

Just an additional note:
If we do in fact get the large snow storm starting Sunday, Feb 7- Tuesday, Feb 9th, we will be closed. Anything under 6" of snow & no ice we will be open.

Keep those quilts handy, I think you may need them this month.
As we all know, quilts are stitched with lots of love.
Love to all,
Obil Wan