Skip Navigation
Website Accessibility
25% Off Sale Friday & Saturday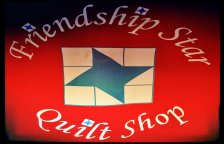 Hello Quilting Friends!

We are having 25% Off, except handmade items, on anything that is NOT already on Sale this month.

Our flower fabric, triangles on a roll, & orphans are 30% Off for the month of April.

Keeping checking the papers to see what other sales are coming up.

We need to keep moving fabric & other goodies out of the shop so we don't have to move it to the new shop this summer.

Maryanne & Mary Lou.