Skip Navigation
Website Accessibility
Reminder for Tuesday's Meeting & some new items on sale this week!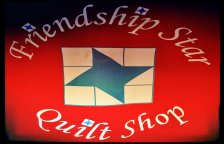 Hello Quilting Friends!

As most of you know, we have been looking into buying the former Little Lambs Daycare building on Center St. in Sayre & have asked for your help in convincing the Athens Township Zoning Board to allow us to purchase & move our Shop to this location.

This building is huge & will give us plenty of room to properly display fabrics, notions, samples, & panels. It will also give our students a little more privacy while attending classes. This building will give us more room to provide better service to our customers.
Best of all, it has it's own parking lot.

On Tuesday, March 11, 2014 at 6:30pm, the Athens Township Zoning Hearing Board will meet at the Athens Township Municipal Building to determine our fate. We would appreciate it if you could take some time out of your evening and bring a quilt so that we may educate the Athens Township Zoning Hearing Board. We need to show them that quilting is a cultural art form that has been an important part of our Heritage that needs to be cultivated & passed on to future generations.

This week we have a wooden sewing room sign on sale for $17.50, regular price is $23.00. Liz keeps knocking them over whenever she passes by them. This week, she said, "They have to go!" Poor kid, she doesn't even have to touch them to knock them over. Just the breeze of her being near them, will cause them to fall over. There are only 2 left. Liz ask that you, please, give them a new home.

Our scissor/rotary cutter fobs are 40% Off the week, too. Come in & check them out.
Don't forget 30% Off Green & 30% Off Orphaned fabrics & 40% Off select fabrics for the month of March.



We hope to see you soon.

Don't forget to turn you clocks back for Sunday. (I'm betting I'll still forget to do it.)


Mary Lou & Maryanne

Friendship Star Quilt Shop