Skip Navigation
Website Accessibility
MARCH NEWSLETTER

We would like to say Thank You for all your condolances, cards, emails, Facebook messages & support during the recent lost of our beloved Mom & Grandma. You have helped us more than you could every possibly know.

We know some of you knew, our beloved Dorothy Jean Severn & feel her lost as we do.
The support we received from you, our quilting friends was greatly appreicated. Thank you, again.

Well folks, it's only 19 days until Spring! Hopfully, the heavy snow will stay away until December.

It's been a great quilting year, though. Most people spent this winter staying inside & only leaving the warmth of their homes to go to work & get supplies.

We would like to remind everyone that our new meeting in front of the Athens Twp Zoning board is March 11th @ 6:30pm. We would love to have you come out & bring a quilt to support us in our quest to purchase to the former Little Lambs Daycare building. This building, as most of you know, will give us tons more room & off street parking. We would like to show the Athens Twp Zoning Board that we do provide the community with cultural experiences by providing budding & experienced quilting artists with classes, supplies &, with the new building, a place to share your quilts to inspire others.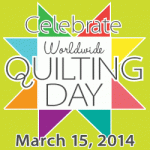 We will be celebrating Worldwide Quilting Day on March 15th with some special sales that will be announced when we get closer.
Show your support by wearing something with a quilt or quilt theme that day.
How ironic that Worldwide Quilting Day is 4 days after our meeting. Hopfully, that's a good sign.


Have Cabin Fever?

Here's some upcoming classes & March's Sales to help you through Cabin Fever.

March Classes:
March 8th- Sweatshirt Jacket Class
March 15th- Eleanor Burns' Braid in A Day, includes template & pattern
March 22nd- Stack 'N Wack Quilt, includes pattern book
March 29th- 3D Blocks
March is sure to be a little warmer & to cause cabin fever. It's a great month to get out, take some classes & visit with other quilters.

March Sales are:
30% Off Green & Orphan Fabrics
40% Off Clearance Fabrics

It's time to start venturing out into the world. Shake off those snowflakes, take a Class & stock up on the stash you've been using up this winter.

We always look forward to your visits & we love seeing your projects. It really does make our day sunnier.

See you soon & quilt on.

Maryanne & Mary Lou
Friendship Star Quilt Shop.