Skip Navigation
Website Accessibility
February Newsletter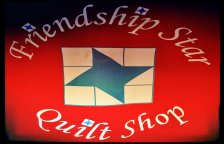 Hello Friends!

We hope your thawing out from the Polar Vortex and are ready to stock up on your stash you may have depleted during your Polar Hibernation.
To help you get started, we have a new sale for the month of February, in addition to the Mouse Capades.

During the month of February, all batiks are 30% Off. This sale will run from February 1st-February 28th. Batiks will not be eligible for the Mouse Capade discounts.

February & March Classes are now online. If you can't make it to the Shop to sign up for a class, you can now sign up & pay for your class online. Just add the class to your shopping cart by clicking on the "add to cart" button, go to your cart & check out. And just show up for class. It's that easy.

Here's the link to our Classes Page:
www.friendshipstarquiltshop.com/classes.htm

I will add photos of samples for the classes as I get them taken.
Have fun checking out our classes & don't for get to stock up on your batik stash in Februrary.



Mary Lou & Maryanne
Friendship Star Quilt Shop