Skip Navigation
Website Accessibility
Temporary Shop Hours Change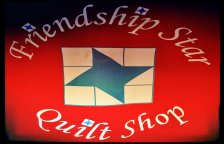 Hello quilting friends!
Due to Mom being out of the Shop for the next few weeks, I have to pick up my nieces from school durning the week. The girls have decided that I need some help in the afternoon. They're such great girls. I love my nieces to pieces. This will be in effect until Mom is back in the Shop.

To get back on track, I will be closing the Shop for about 45mins or so Mon-Wed & Fri around 3:15pm each day. WITH THE EXCEPTION OF WEDNESDAY, NOVEMBER 20TH. WHEN I'LL BE PICKING THEM UP AT 1:15P. Teachers Conference that day.



I'll keep you posted each week on the times I'll be closed. I'll also be posting the information of Facebook.



Mom is doing pretty good after her surgery. It will probably be a couple more weeks before she comes back.
I still have to clean out a corner of the Shop for a recliner for her before she can come in.
She's trying to get her strength back & get a little better control of her pain.
She threw me out of the house on Saturday. She said she was well enough to stay by herself at night and to go back to my own house. Now, I'm there to get her dinner & the next day's lunch around for her.
And to keep her company, too.

Thank you, everyone, for your patience during this time. We are sorry for any inconvience. We appreicate your support & patience during Mom's Surgery & Recovery.



Mary Lou & Maryanne
Friendship Star Quilt Shop