Skip Navigation
Website Accessibility
1st Anniversary Sale Update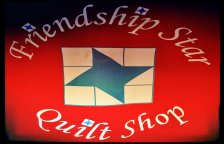 Hello quilters.

WE COUNTED UP OUR DOOR PRIZES & WE HAVE ENOUGH DOOR PRIZES TO GIVE OUT A DOOR PRIZE EVERY 1/2 HOUR FOR ALL THREE DAYS!

The three big Door Prizes will be drawn around 12 Noon on each of the three Sale Days.

There also will be demos throughout all three days.

Don't forget the dates:
Thursday, September 19,2013 10a-6p
Friday, September 20, 2013 10a-6p
Saturday, September 21, 2013 10a-4p

Normally, we do not allow food or drink in the Shop but for this celebration, we will have cookies from the 4 Sisters shop for you to munch on. But, please, remember to keep the cookies away from the fabric.


Mary Lou & Maryanne
Friendship Star Quilt Shop