Skip Navigation
Website Accessibility
September Newsletter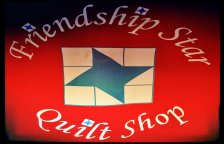 Hello quilters.

Well, the kids are all back in school and the leaves are trying to turn into thier fall colors.

It's getting closer to Quilting Season.

It's hard to believe it's been almost 1 year since we opened our doors!
We're getting ready for our big 1st Anniversary Celebration coming up next week.
Mark your calendars for our HUGE BLOWOUT CELEBRATION on September 19, 20, 21.

We have some fabulous Door Prizes. We have an autographed pattern book from Eleanor Burns, Strip Pack from Northcott, a stuffed goodie bag from Moda, an OttLite, to just name a few. We have lots of Door Prizes.

A name will be drawn every hour on the hour for a Door Prize.
You must be present to win.

We also have a goodie bag for the first 25 customers who make a purchase of $25.00 or more.

You will pull your Sales Discount from a jar. You could get a discount from 10%-25% Off.

Come join us in our celebration Thursday, Sept. 19th; Friday, Sept 20th and Saturday, Sept. 21st.


Other news around the Shop:

Starting November 14th, we will be having a sewing machine repairman coming. November & December, he will be here once a month. Starting in January, he will be here twice a month. He will be here the 2nd & 4th Thursday of the month.

We've got some new flannels from Maywood and a new Real Tree deer panel in this past month. Plus, more novelty & other great fabrics, too. We're getting our feet wet with a few collectons of wool chunks and homespun fat quarter bundles.


Remember Quilters, there's no such thing as too much fabric in your stash!

Mary Lou & Maryanne
Friendship Star Quilt Shop