DID YOU LEAVE YOUR BLOCKS IN OUR STORE?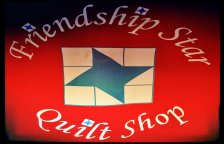 Hello quilters.
We have several blocks which were left in our store by a quilter who asked for help in setting her blocks on the diagonal. We know she's wondering where they are...and no, there are no where in your house...they are here in the shop.

To make sure that we don't give them to the wrong person, please tell us how many blocks and briefly describe them.

All other quilters, please pass them message along as I don't know the name of the quilter or if she receives our e-mails.




Yours in Stiches,
Maryanne & Mary Lou
Friendship Star Quilt Shop