Skip Navigation
Website Accessibility
Two things for your attention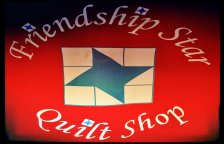 Hello Quilting friends,
Two items today
We will close at 4:00 pm today (Friday 8/16) and reopen on Wednesday morning. we are headed to Ohio to bring you more notions and ideas.
Second, A quilter was in our shop looking for help in setting her blocks on the diagonal. You left several of your blocks in our store. We know you are looking for them. To make sure we don't five them to the wrong person, you need to tell us how many blocks and briefly describe them.
Maryanne and Mary Lou